Tango Holidays in Umbria
with
Antonio Martinez & Francesca Bertelli

June 16th - 23rd, 2018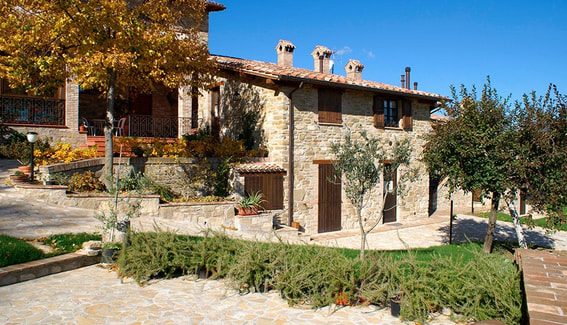 A holiday that combines
great tango
with the experience of
beautiful Umbria
.
You will enjoy comfortable accommodations in a
tango-friendly environment
,
delicious meals
, fun
tango lessons
, a
day at the beach
, evening milongas and much more!
DESTINATION:
The Umbria, the region is called the "green heart of Italy" as it is full of hills and green valleys. It is a land of culture and of good life, a region where the culinary traditions are deeply rooted featuring a simple cuisine, a family style of cooking and a very abundant one! With a sweet scent of "la dolce vita."
More exactly, we will stay at Monteluiano di Gubbio. We will take our meals and we will dance at the Ristorante il Borghetto. Hier is a small tour of the premises:
https://youtu.be/47htg5VuASc
https://youtu.be/Ria91Y_2a4g
https://youtu.be/S_tdsUW2pXQ
https://youtu.be/xgVaxK5C2q8
THE PROGRAMME:
​
5 Workshops in the morning after breakfast taught by us
7 organized evenings with dancing at il Borghetto of excursions
7 delicious, abundant breakfasts
6 dinners at Il Borghetto with drinks included
Nature walks, excursions or shopping visits in the afternoons
The holiday week includes a day at the beach (the monday) with lunch at restaurant La Riva.
A sneak peak here:
www.lariva.net
​ACCOMMODATIONS
The first people registered will be housed at the agriturism, in the middle of nature, in the old farm that has been converted into beautiful apartments. These is also a pool. In tot
Les premiers inscrits seront hébergés en agritourisme, en pleine nature. Une ancienne ferme reconvertie en superbes appartements. In total there are 6 apartments that can house from 2 to 6 people. You can virtually visit the premises here:
http://www.fontechiara.umbria.it/
The following registrations will be housed at the nearby Hotel Pinolo in Gubbio
http://www.hotel-pinolo.com/
The accommodations are on a half-board basis and for those who participated last year, they know that the food is delicious and very abundant!
If you live in the region, you have the option to travel from Pont-à-Mousson in a mini-bus or on a large bus if more than thirty people sign up. You can also choose to travel there independently. We can give you more information on travel option to Gubbio, please contact us.
For those traveling on the mini-bus
LEAVE PONT A MOUSSON parking Gare SNCF on June 16th at 5:00AM
RETURN to PONT A MOUSSON Parking Gare SNCF on June 23th around 11:00PM
PRICE with transportation 950€
PRICE without transportation 795€
The price is per person in a double room or a shared apartment.
SUPPLEMENT single room 160€
INFOS:
Jean-Pierre at +33 6 09 36 67 86 (French)
Francesca at frantangoba@gmail.com or +49-152-59766899 (English, Italian, German)


PLEASE NOTE! Not included in the price are: the expenses during the trip to and from Umbria in the minivan (snacks, drinks etc.) The excursions are included, except for the costs of tickets to museums, grottos, evenings outside Il Borghetto, when applicable and all that is not specifically mentioned in the lists above.
FRANTANGO BUENOS AIRES - frantangoba@gmail.com
---