Boutique Tango Holidays in Tuscany
with
Antonio Martinez & Francesca Bertelli

July 15th-22nd, 2015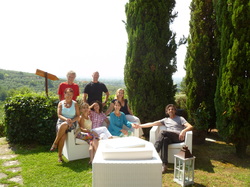 A holiday that combines
great tango
with the experience of
beautiful Tuscany
.
You will enjoy comfortable accommodations in a
tango-friendly environment
,
delicious meals
, a total of
12 hours of tango lessons
, three milongas,
unlimited access
to the practice room on premises at Agriturismo Collina Toscana.
All included in the price
.
The program is limited to
FIVE COUPLES
.
The level of the classes is open as we will work on fundamentals of tango, milonga and vals in a progressive manner. Given the small number of participants we will be able to give personalized attention to each couple addressing their specific needs.
The Collina Toscana is located in a privileged spot in the heart of Tuscany so the program is designed to allow free time to sightsee, take a break at the beach and just enjoy the area.
It does have daily cleaning of the rooms and towels and sheet change as it is run as a four-star hotel.
However keep in mind is that the Agriturismo has no TV nor internet wifi access, but you can use the free wifi at the Hotel Columbia.
Please note that Agriturismo Colline Toscane is located on a hill at approximately 10 minutes distance from Monsummano Terme and 15 minutes to the train station in Montecatini Terme. If you are not coming by car you will need to hire a cab to travel to town. Arrangements will be made with the local taxi company to ensure discounted rates for our participants.
To inquire and book please email
frantangoba@gmail.com
or call +39-347-868-1590
Program for the week
Lessons will be in English and Spanish with Italian translation as needed
Accommodations at Agriturismo Collina Toscana Resort
http://www.collinatoscanaresort.it/agriturismo.html
Wednesday
Arrival of the participants, check-in and dinner at Hotel Columbia.
Thursday
11,00 - 13,00 Tango lessons
Afternoon and evening free.
Friday
11,00 - 13,00 Tango lessons
Evening program: Milonga in Viareggio
Saturday
11,00 - 13,00 Tango lessons
Dinner at Columbia Hotel and Milonga
Sunday
10:30 - 12:30 Tango lessons
Evening OPTIONAL program: Dinner in Montecatini Alto or milonga (not included in the price)
Monday
10,30 - 12,30 Tango lessons
Afternoon and evening free
Tuesday
10,30 - 12,30 Tango lessons
Evening program: Dinner at Columbia Hotel and Milonga in Viareggio
Wednesday
Departure (please note that you will need to check out of your room by noon)
If you have a late flight, you can leave your luggage at Hotel Columbia
The price includes:
7 nights in the Agriturismo Collina Toscana Resort with buffet breakfast
(double occupancy, extra charges apply for singe room)
Dinners at Columbia Hotel on Thursday, Saturday and Tuesday.
12 hours of classes
3 milongas
Unlimited access to the practice room
Transportation by car to dinners outside the hotel and to the
milongas
The price does not include:
Travel to and from Montecatini Terme
Dinners on Friday, Sunday, Wednesday
All lunches
and all that is not specified above
PLEASE NOTE: Prices are based on room
double occupancy
. Extra charge applies for single rooms.
FRANTANGO BUENOS AIRES - frantangoba@gmail.com
---